Rainwater Harvesting Systems
If you wish to know more about any of these products, you may request further information through our online enquiry form
Herkules Garden & House Package
for underground installation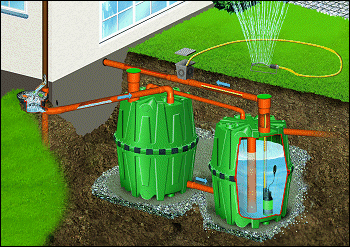 Herkules Garden Package
| | |
| --- | --- |
| Scope of Supply: | |
| 1. Filter Unit | 6. 1-2 Hand access riser pipe(s) DN 200 |
| 2. Herkules Tank(s) | 7. Garden hose connection box |
| 3. Interconnect Pipe set (multiple tanks) | 8. Delivery hose (7m.) to hose connection box |
| 4. Submersible pressure pump 1000 A | 9. Flow controller for pump |
| 5. Support pipe(s) (underground installations) | |
....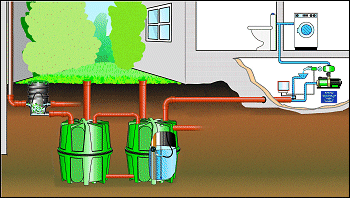 Herkules House Package
| | |
| --- | --- |
| Scope of Supply: | |
| 1. GRAF Universal Filter 2 | 5. In-house water control device with pump |
| 2. Herkules Tank(s) | 6. In-take float (suction hose extra) |
| 3. Interconnect Pipe(s) | 7. Hand access riser pipe(s) DN 200 |
| 4. Level display, with auto change-over to drinking water supply | 8. Labelling set |
| | 9. Support pipes (if underground installation) |
....
Rainwater System for House & Garden
with economy in-house pump/controller
The cost effective complete solution
Integrated rainwater filter technology, combined with back-up mains supply facility
Easy assembly due to modular technology
Float switch control
Access cover finished flush with ground level


Diamant Underground package
ECO-Plus
Scope of Supply:
1. Diamant underground tank
2. Telescopic dome shaft
750 - 1000 mm with PE cover
3. Filter package 3 consisting of:
- Optimax filter (internal, self-cleaning)
- Flow calming downpipe
- Overflow siphon, with vermin guard
- Quick installation Spannfix collar
4. Technical package for ECO-Plus consisting of:
- control panel including auto change-over to drinking water supply
- in-house water pumping system KSB Superinox 15/4
- floating inlet filter
- labelling set
- PE suction pipe 12 m
- wall duct DN 100 sealer plug
Filter Element
The 3 layered filter structure guarantees maximum water yield with optimum self-cleaning of the filter
This advanced configuration results in very high efficiency (>95% water recovery). The smooth surface and fine mesh size (0.35 mm) helps promote maximum self-cleaning. Additionally, the filter is available with the Opticlean powered spray device for regular automatic cleaning.
....
Herkules Tank for Overground and Underground Use

Groundwater resistant

The tank with the unequalled price/performance ratio for overground installation in the garden or basement, or for underground installation (support pipe required for underground installation).

The tank can be safely installed in areas of high ground water, provided the appropriate installation instructions are strictly adhered to.

Patent No. in Europe 0870877
and in USA no. 5878907.
....
Advantages:

Patented quick assembly mechanism
The two tank halves are quickly joined, without screws, using the 24 plug-in connectors supplied. Disassembly is possible at any time.

Secure seal
Laboratory tests estimate the tank joint seal to have a life-span of approximately 25 years. Tank design and connections have all been tested to an approved standard (TUV).

Ease of Transport
Each tank half weighs only 30kg., which allows for ease of transport and manual assembly. The individual components can fit through any standard doorway (more than 80cm.).

Tank Combinations
With the use of standard interconnection pipes, multiple tanks can be combined to make up large total storage volumes as required.
....
- top of page -