Description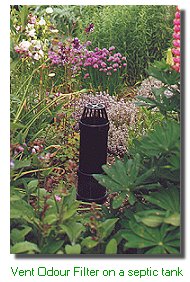 The VOF1 (VOF stands for Vent Odour Filter), as described on this data sheet, is a biological filter used for the removal of "odours" from Septic Tanks. Unlike traditional carbon filters, these new VOF filters use "biofiltration" technology, which exhibits natural regeneration of the media as well as superior performance under moist air stream conditions.
This is now possible because VOFs contain a new High Performance BioFilter Medium (LCP-11X), derived from a blend of Calcified Seaweed. This unique medium has many distinct advantages over traditional bio-filter media, particularly its higher performance and its remarkable ability to eliminate Hydrogen Sulphide peaks. (c.f. Product Data Sheet No. 1)
Typically, VOFs for septic tanks are mounted directly onto the existing vent pipe using standard couplings, with no modifications required. VOFs come in a standard size, and combinations of these can be mounted in pairs or as a cluster depending on the duty required. Additionally, they can be supplied naturally aspirating or fan assisted.
Features & Benefits
High performance medium, thus allowing the use of smaller sized biofilters.
Hydrogen Sulphide peak removal, thereby ensuring no breakthrough.
100% natural material suited to moist gas flows.
Low back pressure with associated low energy costs.
Good bed buffering capacity and PH stability, eliminating acid run-off and giving rapid recovery after plant shut-down.